Home > About Us > News and Articles > Contract Manufacturing
CONTRACT MANUFACTURING
Below is an article from the May 2003 edition of MANUFACTURING ENGINEERING profiling the changes that Remmele Engineering Inc. (REI) has undergone over the past couple of years, as it moved from a traditional machining job shop to a contract manufacturer.
TCA has assisted REI in this change process, beginning with a management World Class (Lean) Bootcamp in March of 2002, followed immediately by similar training sessions for the Plant Leadership teams. These Plant teams developed an Implementation Plan, created Steering Teams and appointed Lean Coordinators. Recognizing that the Kaizen is the tool of choice to implement initial change, each plant selected a project and the evolution began.
At the same time, the senior management group determined that changes were needed in their approach to the marketplace. A "sales" Kaizen determined that fundamental changes in organization, market segmentation and how REI was perceived by its markets should be reviewed. Additionally, REI independently conducted a Strategic Planning process, focusing initially on marketing and sales. The result of all of this work has led to many of the changes that you will read about in the attached article.
During 2003, TCA has assisted REI with two plant consolidation projects; bringing two plants into two others. A third macro plant layout project was also completed. Collectively these projects have positioned REI to take advantage of the changes that are resulting from the evolution from a job shop to a contract manufacturer.
TCA views Remmele as an extremely successful "work in process". Rich Pogue, President of REI, and his leadership team are carefully crafting plans to capitalize on their past successes, implementing new technologies of Lean, Six Sigma and other World Class technologies to leverage these successes into future growth and profitability.
TCA has been privileged to be able to assist REI in these efforts.
---
Remmele evolves from job shop to contract manufacturer
By Jim Destefani, Senior Editor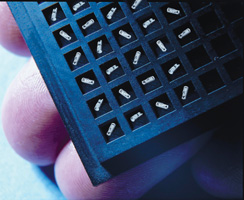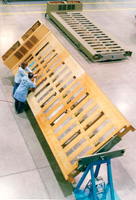 Remmele's work runs the gamut from micro medical components
less than 0.080" long (left) to huge workpieces such as this
enclosure assembly for a ground-based radar system.
In marketing, a concept called the "wheel of retailing" is fairly well known. According to the theory, retailers usually begin at the bottom of the wheel with low prices, profits, and prestige, and then gradually work their way up.
A similar concept--let's call it the "wheel of manufacturing"--might also describe the situation facing many machining job shops in the US. Companies that have survived for decades by producing machined parts are now finding that they must take on a larger role to remain competitive. That role can include pretty much the entire product development cycle, from design through manufacturing and other value-adding operations such as assembly.
Case in point: Remmele Engineering, a large and successful manufacturer headquartered in New Brighton, MN. Remmele recognized years ago that its customers were demanding more than just machined parts, and is transitioning from being a job shop to being a partner able to offer much broader support, according to company president Richard Pogue.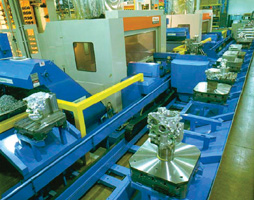 Five-axis Mazak FMS used to produce fluid management parts is among equipment being relocated to Remmele's Micro Machining operation in Big Lake, MN.
"Job shops live from RFQ to RFQ. Contract manufacturers do more than just machine parts," Pogue explains. "We're looking for ways to move up the supply chain and add more value. We look for opportunities where the prime contractor is outsourcing entire assemblies or sub-assemblies and having subcontractors manage that process."
Founded in 1949, Remmele has always been near the leading edge of manufacturing both in technology and business practices. The company generates more than $80 million in sales and employs about 500 people in its Contract Manufacturing and Automation divisions.
The Automation Division develops, designs, and builds custom automated equipment for applications requiring discrete assembly, web processing, and/or packaging and filling. The Contract Manufacturing Division produces components, assemblies and tooling ranging from 0.5-mm medical device parts to aircraft, satellite, and radar components several meters square. The common thread in all the Contract Manufacturing Division work is the need for precision, whether the operations are being performed on a 10-axis Swiss-style lathe or a machining center with 100' (30 m) of X-axis travel.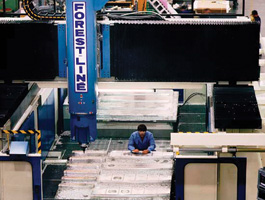 Also among machines scheduled to be shuffled from one plant to another are large Forest Liné high-velocity machining centers used to produce monolithic aerospace components.
Along with the transition from job shop to contract manufacturer, Remmele is also re-making its manufacturing capabilities, consolidating some of its six plants and moving from functional to cellular manufacturing layouts in all its facilities.
"The most flexible type of supplier, I think, is the mom-and-pop kind of job shop," Pogue says, explaining the multi-plant philosophy. "Remmele's business model has been to be very responsive and have personal relationships with customers. So having more locations that specialize in certain areas enables us to react more like a smaller shop rather than a big bureaucracy."
One of the plants absorbing equipment and personnel from another facility is the company's Plant 30-the Micro Machining facility in Big Lake, MN. "We are in the process of bringing our Repetitive Batch operation into this plant," explains John Bowden, VP and general manager. "But we're not bringing in any new equipment. We're looking to improve utilization of the current equipment, and to engineer ourselves to be able to run longer untended so we can generate more hours off the same piece of equipment. Some of it is fundamental-developing better, more robust processes that will allow us to walk away from the work and let it run."
The Repetitive Batch operation makes parts that are slightly larger than those produced in the clean, well-lit Micro Machining facility. "In terms of part-size, that operation picks up where we leave off--roughly about a 3" [76-mm] cube--and goes up to about a 2' [0.6-m] cube," Bowden says. "Major markets for the Repetitive Batch operation are aircraft turbine engines and fluid management components such as hydraulic actuators, control housings, and manifolds."
The Micro Machining operation's bread and butter is producing parts for the medical device industry, which accounts for more than 90% of the work done at the facility, according to Bowden. A specialty is titanium spinal implant components, which are machined on nine- and 10-axis Swiss-style lathes. The screws and other components are produced in a variety of sizes, which customers then place into "kits" to allow the surgeon to select the needed sizes.
The plant also produces catheter-based devices only 0.5 mm in diameter that are inserted into patients' blood vessels to provide imaging, remove blockages, place stents, and perform other tasks. Inspecting such small parts, which include both internal and external geometry, requires some ingenuity. For surface finish measurement, for example, Plant 30 personnel rely on interferometry. "Even using a common profilometer can alter the finish of these very small parts, so we have non-contact surface measurement," Bowden says. "The white light interferometer basically bounces light off the part surface, then digitally computes whatever parameter you're interested in. It also gives you a pictorial topographic map of the surface."
Remmele's Plant 40 has produced hundreds of screens for the Aegis ship radar system over the past 20 years. Each screen has more than 4500 pockets and thousands of other features.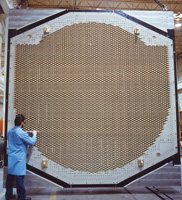 From Micro to Massive. Next door to Plant 30 is Plant 40, one of the Contract Manufacturing Division facilities. The contrast between the two plants is striking.
Plant 40 specializes in manufacturing large components and assemblies, especially aluminum alloy parts for defense and aerospace applications. "One of our core product competencies is radar structures for ship and land-based systems," says plant general manager Jim Frazer. Radar parts produced at the plant include screens, support structures, and cold plates.
An example is the Aegis ship radar system. The large 6061 aluminum alloy front plate features 4502 milled pockets, and pocket location accuracy must be within 0.012" (0.3 mm) tir. The parts are machined on a six-axis Mitsubishi HMC with 100' (30.5 m) of X-axis travel. A thermally controlled coolant system helps maintain accuracy by keeping coolant near 70º throughout machining. The plant has been producing these components at a rate of 12 - 20 per year for the past twenty years.
On such long-term jobs, there is pressure for continuous process improvement and cost reduction, Frazer says. The plant has seen positive results from implementing selected lean manufacturing concepts.
"One of the big things we did with our 5S program was get things labeled and addressed throughout the shop," Frazer says. "Everything now has an address on it and can be located more quickly. We put a lot of time into the program, and we got rid of a lot of things that weren't standard, including tooling and fixturing concepts. It's saved us a lot of time."
Another early lean implementation was development of cellular manufacturing for radar support columns, which support the pocketed screen as well as electronics. "There are 21 columns per ship-set," Frazer explains. "We used to run them in batches, 84 at a time. The processes were laid out all across the shop, and we were moving material back and forth. So we'd take 84 columns, move them into inspection, move them to the riveting machine, inspect them again, take them to the next setup, and so on. We had a lot of quality issues."
Now, machined workpieces come into a work cell for hand drilling and tapping, followed by washing. The same operator follows each column all the way through the process, even through riveting, assembly, and quality verification. "When it's all said and done, one person has built the whole column," Frazer says. "We've seen about a 30% reduction in defects, cycle time is improved, and square footage to store the columns is reduced.
"It's been a real good change for us," he adds. "The biggest thing is, it's changed our philosophy of how we manufacture. You can see the difference from the old batch mode to more of a single-piece flow."
How Remmele Manages Personnel
Remmele is a very selective employer, and it expects commitment and involvement from its personnel at all levels.
The company recruits potential employees from two-year trade schools and some from four-year schools, then puts them through a 3 1/2-year apprenticeship program that includes both classroom work and hands-on training. Many current employees, from shop-floor personnel to company managers, have been through the program, which is expanding to encompass engineering, marketing, and sales through co-op arrangements with local colleges and universities.
And training doesn't stop there. Remmele pays for outside education and sponsors in-house training in a variety of topics. Managers have recently received training in lean manufacturing and strategic planning. Shop floor personnel go to classes to learn new controls or how to operate new inspection equipment. "Training starts at the apprentice level and ends when the employee chooses," says Richard Pogue.
The net result of this careful selection and ongoing training is flexible, knowledgeable employees who can perform a variety of tasks and move to where they're needed, even from plant to plant. Employees at all levels are expected to provide input on, for example, how to improve work flow and processes in their area.
They also meet directly with customers and provide input on various aspects of a job when appropriate. "On larger projects, manufacturing engineers at the plant level, machinists, and quality personnel are all involved in the process," says project manager Dean Krueger, himself a graduate of Remmele's apprenticeship program. "We have that kind of customer relationship on most of our successful larger projects. You can't be an expert in every field; that's why we often pull together a larger team."
Pogue sums up the company's personnel philosophy thusly: "I think it's a lot harder to go find good work on a consistent basis to grow your business than it is to find a machine to do the work. A machine's a machine. It's people--operators who know how to do it better, project engineers with superior knowledge--that make the difference."
How Remmele Manages Technology
Although Remmele plant managers have quite a bit of autonomy when it comes to managing their businesses, one area where corporate maintains some control is technology acquisition.
"Equipment acquisition is a corporate process that we originate in the plant," explains John Bowden. "It's really changed in the past few years. To get started in a business like this, you have to take some risks, go out and buy a piece of equipment and hope you fill it up. We're at the point now where we need to have things pretty well thought-out in terms of utilization."
According to Richard Pogue, the company tries to match depreciation with capital expenditures. "You need to look at what you're trying to make, and then try to match the equipment to that," he says. "So we look at the application. Other important factors are the local distributor, and financial stability of the supplier."
Project manager Dean Krueger says cross-functional teams including marketing personnel, project managers, general managers, and sometimes sales reps try to forecast where future sales will come from, then capitalize accordingly. "Is it four-axis work, five-axis work, superalloy, aluminum?" he asks. "Once we've figured that out, we solicit bids on equipment that will support that type of machining." The company uses guidelines published by AMT--The Association for Manufacturing Technology to justify capital equipment purchases.
Other technology areas, including computer systems and tooling, also will be coming under more corporate control in the near future. Remmele is in the process of selecting vendors for a new computer integrated manufacturing system that will put all engineers, programmers, and other personnel on common software platforms. "I think we recognize that having a common system is a powerful tool that allows you to maximize the flexibility of your workforce," Krueger says.
"Cutting tool management will be one supplier, CAM systems will be another, and DNC will be another," Pogue explains. "We currently have about 14 different CAD/CAM systems and several different DNC systems, and we'd like to reduce those numbers."
Another part of the new computer system will be a central tool library that will allow plants to draw needed tools from any Remmele facility. Accompanying this is a rationalization of tool suppliers. "We currently have 27 tooling suppliers," Pogue says. "We'd like to have two suppliers for standard cutting tools."
Contact Us for a Free Assessment!