Home > About Us > Purpose and Mission
PURPOSE AND MISSION
Mission: To be the best in the world at integrating a suite of education and consulting services.
Purpose: To participate in building great companies.
Success Drivers: We define success by our long-term relationships with clients and our use of innovative practices in helping clients prosper.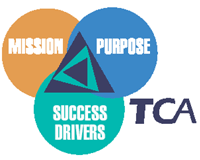 The synergy of TCA's capabilities with the wealth of talent and expertise in your organization leads to improved business performance. Together, we work to achieve the benefits of the World Class enterprise.