Home > About Us > News and Articles > The Lancair Company - Demand Pull
THE LANCAIR COMPANY - DEMAND PULL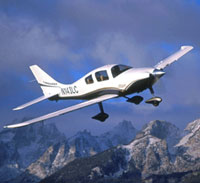 Technical Change Associates, Inc. (TCA) selected as Columbia Aircraft Manufacturing Corporation's World Class Lean Manufacturing Resource
Technical Change Associates, Inc. has been working with Columbia Aircraft Manufacturing Corporation to increase production, streamline processes, reduce parts handling, and increase quality. On May 10, 2004, Aviation Week magazine released an article about the premier light aircraft facility in Bend, Oregon. The following excerpt includes an announcement about TCA and its association with this unique company.

"Columbia Aircraft Manufacturing Corporation has received FAA certification for its turbocharged Columbia 400 personal aircraft. Powered by a 310-hp. Teledyne Continental TSIO-550 engine, the four-seat airplane has a cruise speed of 220 KTAS at 18,000 ft. and 235 kt. at 25,000 ft."

"In related news, the company has appointed Technical Change Associates, Inc. to assist management in streamlining manufacturing processes aimed at acceleration
production of the Columbia product line. Current production rate is one aircraft
every two days, but the goal is one per day by 2005, according to Lancair Vice
President Ron Wright."
Columbia Aircraft Manufacturing Corporation is growing and will be expanding their current facility. TCA will play an important role in the layout to make better use of the additional space. TCA's involvement is further discussed in recent Lancair news releases:
"As Lancair Vice President Ron Wright puts it, "We'll soon be building two separate aircraft models on our line and that adds another layer of complexity to what we're doing. TCA is working with us to enhance our overall manufacturing efficiency and that will let us increase our production rate while maintaining and in some cases improving our already excellent quality levels…"
"According to Wright, advances made possible through its work with TCA and a capital improvement program has already yielded significant reductions in materials handling times that are the foundation of the aircraft production process."
"TCA is an extremely capable and professional organization," Wright said. "Already, we've reduced our parts handling in support of composite production and assembly by 65% and other advances are developing every day"
"Increasing production rate is vitally important to Lancair," said TCA President David Dixon. "But we are most impressed by the Lancair culture of aggressive attention to the highest quality levels in general aviation production. We won't consider any steps to increase production unless they maintain or increase quality levels. The Lancair team combines an impressive mix of skill, knowledge and determination. Our consultants are proud to be hard at work assisting Lancair in meeting its quality and production standards."
"TCA, based in Ogden, Utah is a leading industrial consulting firm helping clients implement Lean Manufacturing Technologies, Six Sigma Quality Improvement Programs and other manufacturing-excellence-related initiatives.
TCA serves clients in fields including high tech, outdoor recreation equipment, heavy equipment and advanced
metals manufacturing."
Contact Us for a Free Assessment!