Home > About Us > News and Articles > What Does My Golf Game Have to Do With ERP?
WHAT DOES MY GOLF GAME HAVE TO DO WITH ERP?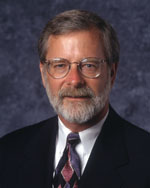 John E. Boyer
It was about one year ago when the household budget meeting took place. Yes, just like many companies we were into the year about two months before we decided to set the annual budget...but better late than never, right? My main focus was to get the golf appropriation through, and on this particular day, the "plant manager" saw it in my favor. . .$500 completely funded. I could hardly wait for the weather to break.
Being fully empowered, use of the money was at my discretion and a decision had to be made. Here are some of the facts: 1) golf balls at the local driving range are $5 per bucket (about 100 balls); 2) lessons are $32 per hour; 3) a set of new irons is about $500. At the range, that works out to about 10,000 balls and believe me they would be hit over several months, not in two days! And the clubs were the really good oversize cavity back two-degree upright stiff steel shaft custom fit by the local pro. . .and no extra charge for the fit! What a dilemma.
In evaluating the choices, my main criteria was improving my game, which is basically measured by my state handicap. This, of course, is a function of my scores...posted, that is. And only the ones from tournaments! But there were some intangibles, like the condition of my current set of clubs. They were bought in 1973 (brand new, not used) and faithfully regripped each year. These clubs, even though functional, made me feel a little low-tech when out there with my chums. If nothing else, the new clubs would just make me feel better and surely result in better shots.
And then there is the effort factor. Buying the clubs could be done in a couple of hours on a rainy Saturday afternoon (when I couldn't play), and the job could probably be delegated to the "plant manager"! What a deal! The balls, on the other hand, would take some hard work and effort over many days. Shot after shot. Practice, practice, practice. Then the thought of lessons occurred to me. My local pro is a great guy--state "teacher of the year" once. But session after session. Drill, drill, drill. I knew he would even expect me to do these drills between sessions at the range...with the kids. It occurred to me that this strategy would really take some commitment, involvement, dedication, sacrifice, and action on my part.
Golf vs. Manufacturing
The whole analogy puts you right in the middle of the decision facing many manufacturing companies today. They are trying to lower their handicap--in other words, improve measurable performance--to be more competitive in the market place. And many times their challenge is choosing the right improvement strategy: Invest in new technology or improve the process using the tools we have today? And companies have limited money and time, just like you and me as we struggle to improve our golf game. If only there were a magic way to improve performance and not have to hit all the balls and take the lessons.
Just like new clubs, balls, shoes, and a plethora of golf gadgetry, numerous technology choices are available to manufacturers today: new equipment, machinery, manufacturing process technology, and computer systems. One of the solutions leading the list is ERP or Enterprise Resource Planning systems. I call ERP a fully integrated and functionally complete approach to planning and controlling the manufacturing business process from product conceptualization to the collection of cash from the customer. It all works together in the spirit of providing one set of numbers to run the business. Estimates claim corporate USA will spend $2.6 billion on enterprise-type systems in 1997. A huge number! (I wonder how that stacks up against golf equipment?)
Enterprise Resource Planning systems
ERP is a strategy to get all decision makers on the same page and to speed the decision process. It is an approach to eliminate redundancy and to reduce confusion. It addresses the business processes of:
• Sales and operations planning
• Delivery promising
• Date management
• Order entry and administration
• Sales forecasting and analysis
• Accounting and finance
• Engineering and product data
• Material provisioning
• Scheduling
• Inventory control
• Manufacturing information
• Procurement
• Costing
• Scheduling
• Capacity analysis
• Human resources
It's many processes working together to execute perfect shots. You can think of ERP as a strategy to "lower the handicap" of the company.
Which One?
Technology vs. process. Which strategy is right? Can they be worked together? Which is more cost effective? Our experience shows that many times the tools we have today are not quite as bad as we thought. And that more gain is possible by working on process improvement than anyone thought possible. Just think of the manager down the street (certainly not you or me) who every year buys the newest titanium, biggest oversize stuff money can buy. How much has his or her game improved? Then think about the person you always want on your team--you know, the one who is always on the practice range and on the putting green, building an excellent repeatable process. Which strategy seems to pay off the most? The clubs or the practice?
Don't get me wrong. If your business tools are incomplete, disconnected, outdated, it may be time to replace them. In other words, if you are missing the six iron, the sand wedge, and the string is unwinding from the hozzle of that pricimmon head driver, half the clubs are from your brother's old set and the other half came from a garage sale, it is time to get new clubs! Believe me, in today's day world, every company owes it to itself to have the right tools. I mean fully integrated and functionally complete. But the tools are simply the entry fee to the weekend tournament. To win, the process is the key. Work on processes. Make them robust. Have one-set-of numbers. Get information in real time. Have the "system" working together--from the address of the ball to the final follow through.
From a management perspective it is very tempting to spend money on the tools, hoping performance will improve. And this should be done if the tools are out of date. But the real benefit comes from the hard work, discipline, involvement, sacrifice, and dedication to process improvement. You've got to spend the time on the practice range and take the lessons. And you can work the improvement at the same time you update the tools. It can all work together.
Oh, yeah, about my $500. I got the clubs. I said got, not bought! The real truth is that I took lessons and worked on my game. Even though I've played golf for 35 years, my first lesson was right back to swing fundamentals--basic grass roots process improvement. And I spent as much time as I could at the range. Well, it paid off. On the weekend tour, I was able to win enough in prizes to get the clubs (to replace the ones I bought in 1973!) And the "plant manager" was really happy for me!
In your company, what is the strategy and focus? Technology or processes? Are both working together? Make sure you are willing to spend the time on the range with the pro, and not just spend the money!
John E. Boyer, Senior Consultant of Technical Change Associates, Inc. (TCA), has 24 years of manufacturing experience working with companies from all types of industry to develop robust business processes in parallel with business system implementations. For more information on how the TCA team can help you improve your business process performance and sort through your ERP challenges, call (801) 621-8980, or e-mail jboyer@technicalchange.com.
PULL QUOTES
I call ERP a fully integrated and functionally complete approach to planning and controlling the manufacturing business process...
The real benefit comes from the hard work, discipline, involvement, sacrifice, and dedication to process improvement.
Contact Us for a Free Assessment!