Home > Practice Areas > In-House Job Skills Training Programs
IN-HOUSE JOB SKILLS TRAINING PROGRAMS
World Class companies recognize that leading-edge technologies are critical to being competitive. Of equal importance is workforce flexibility and skill in applying these technologies. Many successful organizations are experiencing difficulty in supporting their growth without enough personnel adequately trained in basic job skills and World Class (Lean) operations know-how.
Strong basic job skills are the first line of defense against poor quality and low productivity.
Companies now recognize the need to develop in-house training capabilities to turn this challenge into a competitive edge.
TCA can assess your training needs and assist in developing a valuable and practical in-house training program.
OBJECTIVES
We'll work with you to:
• Provide a permanent in-house education and training capability that will support business needs, including compliance with ISO 9000 training requirements

• Gain the strategic and economic advantages associated with a well-trained, flexible, and highly motivated workforce.

• Build superior knowledge and skill in core process technologies such as machine tool operation, blueprint reading, shop math, CAD/CAM)

• Augment basic skills with education and training in Lean Operations, Six Sigma Quality, team working, and other World Class philosophies and techniques.
APPROACH
TCA has developed a step-by-step approach to accomplish these objectives: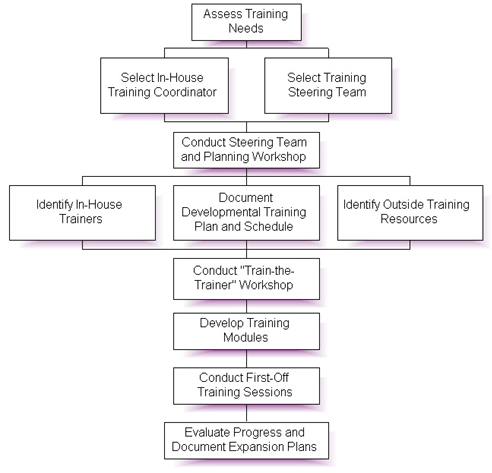 TCA ASSITANCE
• Identify critical education and training needs

• Select and develop Steering Team and Training Coordinator

• Prepare and deliver a Steering Team education and planning workshop

• Designate sources of job-specific training, both inside and outside the company

• Document a plan for developing trainers and materials to meet identified needs

• Prepare templates for training materials and assist in creating modules.

• Conduct sessions to prepare in-house trainers to deliver training modules effectively

• Evaluate initial training efforts and facilitate an expansion planning workshop.
BENEFITS
An investment in TCA's assistance will enable you to:
• Transform your workforce into a competitive weapon

• Create a permanent, self-perpetuating training system tailored to your company's needs

• Assign a core group of effective in-house trainers that can be expanded as the company grows

• Implement a program that satisfies ISO 9000 training documentation requirements

• Help employees recognize their opportunities for growth and advancement by meeting measurable job skill and team participation requirements

• Retain key contributors by providing advanced skill development and cross training opportunities

• Improve performance through clear work instructions and effective training methods

• Execute the program systematically

• Avoid false starts and wasted efforts