Home > Practice Areas > Kaizen Improvement Programs
KAIZEN CONSULTING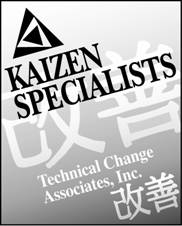 Companies with maturing World Class (Lean) operations programs now have a powerful tool for taking performance to the next level. Kaizen means making small, incremental improvements over an extended period. TCA Kaizen events accelerate the improvement process by producing dramatic results—often in a week or less.
Kaizen events employ a wide range of improvement tools:
• Setup Reduction
• Cellular Layouts
• Pull Systems (Queue Limiters)
• One Piece Flow
• 5S (Workplace Improvement and Housekeeping)
• Facility Layouts
• Process Improvement
TCA can help jumpstart your Kaizen program. Our expertise in education, training, and teambuilding is critical to the success of any performance improvement effort. We have the technical skills and experience needed to support Kaizen teams as they pursue meaningful improvements in performance by upgrading processes, facilities, systems, and people.
Kaizen works when:
• Quick results are needed
• Low cost is a criterion
• A results-oriented approach is important
• Workforce participation is critical
• Major innovations are not expected
Kaizen does not apply when:
• Extensive analysis or engineering is required
• Major innovations are expected
Objectives
Following are the objectives of a Kaizen improvement program:
• Integrate Kaizen improvements into an ongoing Lean strategy
• Ensure that Kaizen is understood and supported throughout the organization
• Plan Kaizen events that support the organization's visions and goals
• Achieve significant results from the very beginning of the Kaizen program
• Reshape the organization's culture by building momentum behind Kaizen and continuous improvement
The flow chart below presents TCA's general approach to Kaizen events: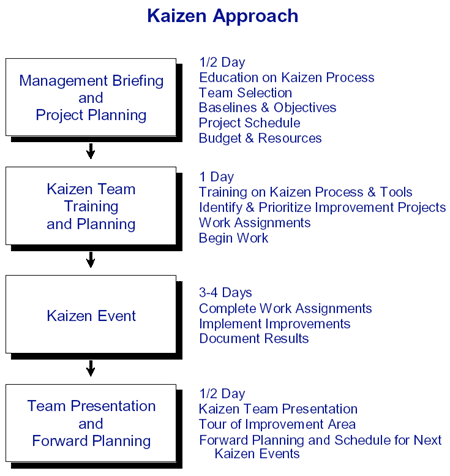 TCA Contributions
• Instruct management team in the Kaizen process
• Facilitate planning for first Kaizen events
• Train Kaizen teams
• Provide coaching and technical support during Kaizen events
• Help measure and document baseline performance and ongoing performance improvement
• Help Kaizen team present improvement results to the management team
• Facilitate forward planning and schedule development for future Kaizen events
Benefits
Kaizen events are results oriented—and should deliver dramatic performance improvements from the start, such as:
• 98% on-time delivery
• 15+% productivity improvement
• 50% reduction in shop lead time
• 50% reduction in inventory
• 25% reduction in scrap and rework
• Achievement of a World Class look and feel culture
Step-wise approach provides:
• Initial hands-on experience with Kaizen
• Opportunity to create detailed plans for expanded applications of the Kaizen approach in ways that suit your organization
• Development of in-house resources capable of managing the future Kaizen process
Contact Us for a Free Assessment!