Home > Practice Areas > World Class Leadership / Lean Manufacturing Training Agenda
WORLD CLASS LEADERSHIP / LEAN MANUFACTURING TRAINING AGENDA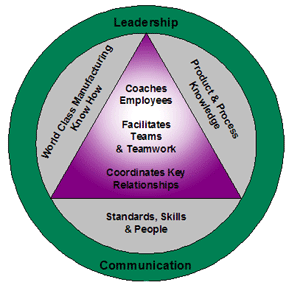 Day 1 — Team Building
This overview of the technical aspects of World Class/Lean Manufacturing combines training and discussion to make the connection with the human or soft side.
Segments include:
• Introduction
• Workshop Objectives and Agenda
• The Human Side of World Class Enterprise training
• Research Findings From "First, Break All the Rules" Research
• World Class Supervisor Overview
• The Essence of Teams
• Flight of the Buffalo Video
• Characteristics of High/Low Performance Teams
• Evolution of a Team
• Stages of Team Development
• Team Formation – Getting the Mix Right
• Use of Cross Functional Teams
• Common Team Formations
• Enfranchisement
• Role of Management and Teams
• Team Performance Measurements
• Use of Continuous Improvement Lists
• Prioritization of Continuous Improvement Activities
• Communication, Cooperation, Collaboration
• Team Decision Making
• Team-Building Exercise – Great Tower Race #1

Day 2 — Team Building (Continued)/Facilitation
After additional training in team building we move into how to get people involved in improvement activities and day-to-day operations. In addition, the training focuses on how to effectively lead meetings along with the crucial differences between facilitation and just giving orders.
Segments include:
• Team-Building Exercise – Great Tower Race #2
• Gettysburg Video
• Team Building Wrap-Up
• Facilitation Defined
• Why Facilitation?
• Facilitation Exercise #1
• Fundamental Behaviors of a Facilitator
• What's Wrong With Our Meetings?
• Good Meeting Fundamentals Overview
• Creating a Meeting Agenda and Schedule
• Building the Right Climate
• Setting Boundaries
• Getting People to Contribute
• Managing Air Time
• Managing the Team Communication Process
• Delegation and Follow-Up
• Team Process Check
• Making Daily Huddles Effective
• Facilitation Exercise #2
• Facilitation Wrap-Up
Day 3 — Performance Coaching/Personnel Development/Communication
The first section gives supervisors a practival approach to regular, meaningful coaching. The next section builds a road map for supervisors to assess the needs of their people, compile a simple development plan, and provide the necessary training. The last section focuses on the importance of effective, appropriate communication.
Segments include:
• Performance Coaching Defined
• Why Coaching?
• Performance Coaching Model
• Performance Coaching Exercises
• Performance Coaching Wrap Up
• Why Personnel Development?
• Needs Assessment
• Developing a Plan
• The Essence of Training
• Effective Training vs. Traditional Training
• Creating a Learning Environment
• Principles of Adult Learning
• Principles of Motivation
• Dealing With Resistance
• Feedback
• Developing an Approach to Training
• Training Model
• Personnel Development Wrap-Up
• The Importance of Communication
• Communication Defined
• Effective Communication Defined
• Why Communication Is So Difficult
• Communication Styles
• Personality Profiles
• Communication Matrix
• Elements of Communication
• Verification Techniques
• Communication Exercise
• Listening Skills
• Feedback
• Practical Communication Tools
• Communication Forums
• Communication Wrap-Up

Day 4 — Conflict Resolution
We start an overview of what causes conflicts and a logical approach to dealing with them, including discipline steps and exercises.
Segments include:
• Conflict Defined
• What Causes Conflict
• 6 Steps to Successful Conflict Resolution
◊ Taking Control
◊ Establishing the Rules
◊ Finding Common Ground
◊ Isolating and Defining the Disagreement
◊ Reaching Consensus or Compromise
◊ Holding Parties Accountable
• What to do When the 6-Step Conflict Resolution Approach Isn't Enough
• Problem Coaching Model
• Verbal Warning
• First Written Warning
• Break of Agreement
• Resignation
• Termination
• Problem Coaching Forms
• Live Problem Coaching Scenarios
• Problem Coaching Wrap-Up

Day 5 — Leadership
Based on years of practical experience and the Arbinger Institute (internationally recognized for research and expertise in leadership), we concentrate on application. Each participant learns what makes and breaks leaders and forms a custom plan to implement these lessons.
Segments include:
• Leadership Perspective
• Leadership Model
• Leadership vs. Management
• Leadership Activity
• Bringing Out the Leader in You Video
• Leadership Qualities
• Leadership Definitions
• Foresight
• Insight
• Shaping
• Trust
• Self-deception
• Change Management
• Emotional Responses to Change
• Putting It All Together
• Leadership Plan Development
• Leadership Wrap-Up
• Management Report Out