Home > Practice Areas > Kaizen Improvement Programs > Quick and Easy Kaizen Training
QUICK AND EASY KAIZEN TRAINING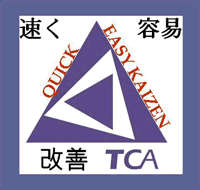 This is the most effective and powerful way to implement a sustainable employee-led improvement system.
We have all learned about using technical Lean tools to achieve business performance improvements, but the true strength of Lean comes from the other side—the human side. Quick and Easy Kaizen will invigorate your Lean manufacturing program by leveraging the power and creativity of your employees while enriching the work experience.
This implementation releases their creative energy and brings out the best in each employee, one improvement idea at a time.
Let TCA make Quick and Easy Kaizen part of your Lean implementation toolkit.
Contact Us for a Free Assessment!